E&J Electric, Inc. and E&J Geothermal, Inc. are electrical and geothermal contractors focused on providing quality heating, cooling, and electrical solutions to both the residential and commercial construction industry.
The President & CEO of both E&J Electric, Inc. and E&J Geothermal Inc., John Schmidt, founded E&J Electric Inc. over 40 years ago. With over 40 years of experience, E&J has stood the test of time and emerged as the leader in our industries. With thousands of satisfied customers, E&J has made itself the most experienced and reputable geothermal and electrical contractor in the State of Iowa.
Enjoy the Benefits of Planned Maintenance
E&J Geothermal Inc. knows how much of an investment a new heating, air conditioning, air quality or geothermal system can be. That is why we want to help you protect your investment!
Click the button below to learn more about our maintenance plan!
Service Agreements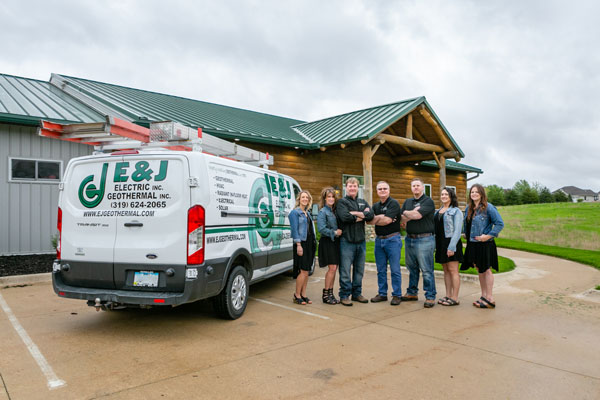 E&J Hours
Office Hours:
Monday-Friday, 7:00am-5:00pm
Service Hours:
Monday-Friday, 7:00am-3:00pm
After-hours, Weekends & Holidays:
Available Upon Request & For Extra Charge
---
400 E Main Street, Solon, IA 52333
P: (319) 519-0261
319-624-2065 - Office 1
319-624-5307 - Office 2
319-624-4133 - Office 3
319-624-5214 - Marketing 4
319-382-0101 - Marketing 5